Location and Hotels
Venue:
Lloyd Werft
Brückenstraße 25 / Corner Franziusstraße
27568 Bremerhaven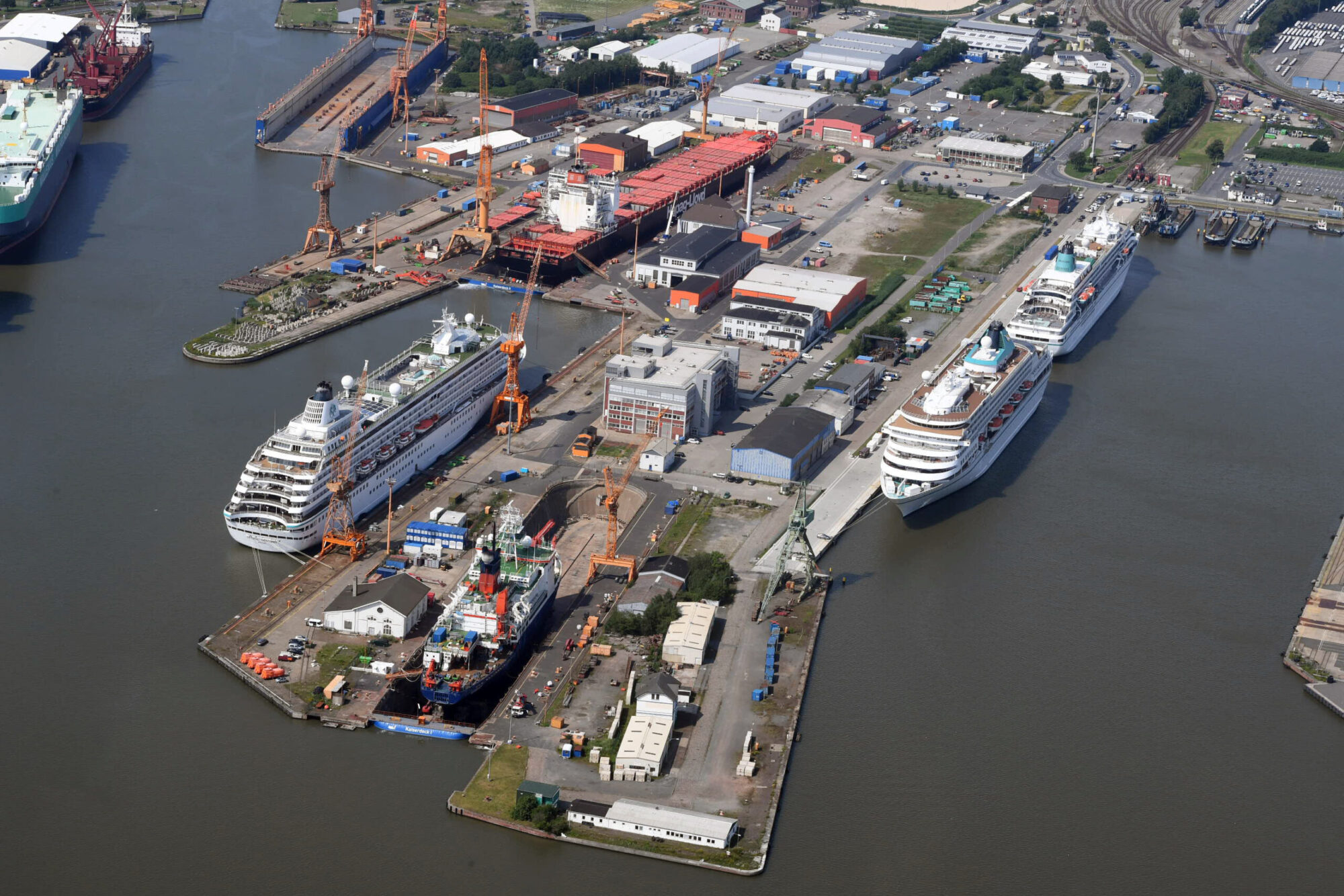 By Car
You will find the main entrance to Lloyd Werft on the corner of Franzius-/Brückenstraße.
Tip for Navigation Systems
Some navigation systems do not require "Bremerhaven, Brückenstraße" as the destination, but rather "Bremen, Brückenstraße", as the free port of Bremerhaven is officially assigned to the city of Bremen.
Travel by public transport
From Bremerhaven main station you can reach Lloyd Werft with bus lines 504, 505 and 506 to the Bremerhaven Rotersand stop. Add a 20-minute walk along Franziusstraße. There is also a regular taxi service, which you need to book by telephone at least 45 minutes before the scheduled departure time (+49 471 3003444). Find your ideal connection here: www.bremerhavenbus.de.
Hotel booking
Hotel name: B&B Hotel Bremerhaven

Address: Barkhausenstr. 3, 27568 Bremerhaven

Price per person/night: 66,- EUR

Breakfast per person/night: 8,50 EUR

Hotel link: www.hotel-bb.com

Keyword: Windforce Conference 2022

Bookable until 10/06/2022

Booking by phone: +49 (0) 471 9263388 0

Booking by e-mail: bremerhaven@hotelbb.com
Hotel name: THE LIBERTY

Address: Columbusstr. 67, 27568 Bremerhaven

Price per person/night incl. breakfast City View: 148,- EUR

Price per person/night incl. breakfast Water View: 168,- EUR

Hotel link: www.liberty-bremerhaven.com

Keyword: Windforce Conferemce 2022

Bookable until 07/06/2022

Booking by phone: +49 (0) 471 90 22 40

Booking by e-mail: info@liberty-bremerhaven.com
Hotel name: Im-jaich oHG Hotel Bremerhaven

Address: Am neuen Hafen 19, 27568 Bremerhaven

Price per person/night: 181,- EUR (double room for single use)

Breakfast per person/night: incl.

Hotel link: www.im-jaich.de

Keyword: Windforce Conference 2022

Fully booked

Booking by phone: +49 (0) 471 / 971 66 33 0

Booking by e-mail: hotel@im-jaich.de
Hotel name: nordsee Hotel Bremerhaven City

Address: Theodor-Heuss-Platz 14-18, 27568 Bremerhaven

Price per person/night: 104,- EUR

Breakfast per person/night: incl.

Hotel link: https://www.nordseehotels.com/city/

Keyword: Windforce Conference 2022

Bookable until 06/06/2022

Booking by phone: +49 471 900 83 600

Booking by e-mail: city@nordseehotels.com
Hotel name: NORDSEE HOTEL BREMERHAVEN FISCHEREIHAFEN

Address: Am Schaufenster 7, 27572 Bremerhaven

Price per person/night: 109,- EUR

Breakfast per person/night: incl.

Hotel link: https://nordsee-fischereihafen.hoteltop.de/

Keyword: Windforce Conference 2022

Bookable until 03/06/2022

Booking by phone: +49 4719 3200

Booking by e-mail: fischereihafen@nordseehotels.com