the_title() ?>
Closing date for abstract submissions for the WINDFORCE 2020 Conference: 5 February 2020
Date:
12 – 13 May 2020
Venue:
ATLANTIC Hotel Sail City, Am Strom 1, 27568 Bremerhaven, Germany
Procedure:
Please select a session (A-L)
Enter your contact details and topic via the abstract submission form.
In February, the WAB board votes on the conference programme
Speakers with approved abstracts will be informed before the end of February 2020.
Publication of the detailed programme
Speaker registration and hotel reservation (via e-mail)
Registration
Sessions A-L:
Presentation – free of charge, including attendance at WINDFORCE Trade Fair & Conference on 12 – 13 May 2020 and the WINDFORCE Party on 12 May 2020.
Speakers bear their travel expenses.
Presentation details
Duration: The presentation time is 25 minutes plus 5 minutes for questions from the audience.
Presentation language: Presentations can be given in German or English. Simultaneous translation from German to English and vice versa is available during the conference.
Abstracts language: The presentation proposals can be submitted in either German or English. An abstract should not exceed 750 words.
Day 1

08:00 AM | WINDFORCE reception
Regular Sessions 12th May

09:00 – 10:30 AM | Session A: Offshore Wind Turbines
Submit Abstract
09:00 – 10:30 AM | Session B: Grid / Cables / Substations
Submit Abstract
11:00 AM – 12:30 PM | Session E: National Projects / Regulatory Basis
Submit Abstract
11:00 AM – 12:30 PM | Session F: UK-Market & US-Market
Submit Abstract
LUNCH BREAK
13:30 – 03:00 PM | Session I: Offshore Wind Farm Operator / Cost Reduction
Submit Abstract
03:00 – 05:00 PM | Session J: O&M: Concepts, Digitalization, and Safety
Submit Abstract
From 03:00 PM | Coffee break
05:30 PM – 6:30 PM | Keynotes
07:30 PM | WINDFORCE Dinner

Day 2

Regular Sessions 13th May

8:00 – 9:30 AM | Session C: Foundations / Floating
Submit Abstract
8:00 – 9:30 AM | Session D: Further Offshore Wind Markets
Submit Abstract
10:30 AM – 01:00 PM | Session G: Financing and Insurance
Submit Abstract
10:30 AM – 01:00 PM | Session H: O&M: Special Ships, (CTV, Jack-up, …), Drones
Submit Abstract
LUNCH BREAK
13:00 – 03:15 PM | Excursion / alternatively Networking
From 02:30 PM | Coffee break
03:00 – 05:00 PM | Session K: Wind Power & Hydrogen (Market & Solutions)
Submit Abstract
03:00 – 05:00 PM | Session L: Ports and Logistics
Submit Abstract
At 5:00 PM, After-Conference Party
Contact: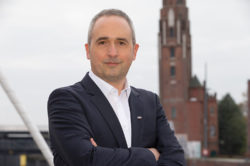 Hans-Dieter Sohn
Senior Communication & Marketing Manager
fon. +49 1732382802
Hans.Sohn@wab.net