Call for Abstracts
Closing date for abstract submissions for the WINDFORCE 2023 Conference: 20 January 2023
Conference Date: 12 – 14 June 2023
Venue: Bremerhaven
Procedure:
Please select a session (A-H)
Enter your contact details and topic via the abstract submission form.
Speakers with approved abstracts will be informed in late February
Registration
Presentations are free of charge and include attendance at WINDFORCE Conference from 12 – 14 June 2023
Speakers bear their travel expenses.
Presentation details
Presentation language: Presentations can be given in German or English. Simultaneous translation from German to English is available during the conference.
Abstracts language: The presentation proposals can be submitted in either German or English. An abstract should not exceed 750 words.
Duration: The time slots for individual presentations may 20 minutes.
We are looking forward to receiving your proposal!
Contact: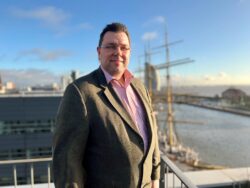 Steffen Schleicher
Cluster Manager Innovation & Conference
fon. +49 471 39 17 72 2
mobil. +49 173 2382801