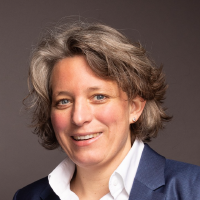 Iris
Stempfle
Iris Stempfle, 1974, began her professional career as a physiotherapist.
In 2002, she decided to study Scandinavian Studies, Political Science and Business Administration.
After completing her Master's degree in 2006, she worked at the Norwegian Chamber of Foreign Trade (Innovation Norway), most recently as Senior Advisor – Lead Europe. She was in charge of the Energy and Environment Department in Germany as well as its coordination within Europe. With the title "The Promotion of Renewable Energies in Liberalised Electricity Markets: A harmonised quota model for Scandinavia?" she published a book in 2008.
In 2011, she moved to EnBW AG as Project Manager Grid Affairs, where she was mainly responsible for the interface with the transmission system operators for the connection of offshore wind farms in the Baltic and North Seas, in addition to association and public relations, regulatory affairs and political framework conditions.
With a move to the contractor side in 2015 to the Norwegian shipping company Fred. Olsen Windcarrier, she continued her career as General Manager.
This was followed in 2019 by additional management of the joint venture United Wind Logistics. At the beginning of 2021, Ms Stempfle became Country Director and Managing Director of Iberdrola Renovables Deutschland GmbH.